23/01/2021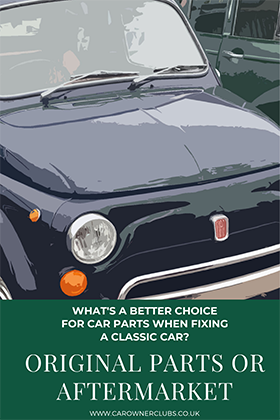 The best choice for replacement parts will depend largely on the type of car you have and what you are using it for. Simply put, for some older cars Original or OEM (original equipment manufacturer) parts are just not available, so Aftermarket or Pattern parts are the only option available.
However, for some classic cars you can still get parts freely, be they manufactured new or left from original parts runs (often known as NOS, New Original Stock". Specialist parts retailers often buy up remaining stock from manufacturers when they discontinue supporting spare themselves, meaning all remaining original parts can end up in the hands of a few suppliers.
If you have the choice of OEM or Aftermarket parts, then you should consider how you plan to use the vehicle. If you are intending to enter it in concours events, then keeping the vehicle as original as possible is most important. You should look for original parts, either as spares from another of the same car, or from a Specialist parts supplier.
If you are a member of a Classic Car Club, they will often be able to help you source these. As cars and parts become increasingly rarer, the community of owners tends to become closer. For very rare makes they will often know where almost all of the remaining models are, and who has non-runners available for parts. They will certainly have sourced the part you need before and be able to point you towards a specialist supplier.
Sometimes however original parts have run out, at this point you should then look for pattern parts, parts made to original patterns by third parties. Often when car companies close down or cease production of a part, the patterns are brought up by engineering companies who have a side business in manufacturing these spares. If you do go for pattern parts however, look for reviews from other owners as often the quality is not as good as would be hoped.
If however you are not planning to show the car often, or do concours, then aftermarket parts can often be the best choice. Whilst if you were replace the original drum brakes on your car with aftermarket disk brakes, you would probably get chased out of a concours event by an angry mob, if you are wanting to drive the car everyday it would be a massive quality of life improvement.
Likewise many classic cars need constant engine maintenance to keep them running smoothly. Often an aftermarket upgrade can remove issues entirely, a definite benefit if you are using the car as your daily run-around.
For this reason it's probably not surprising that the most common aftermarket addition to classic cars is a new electrical system, some of the earliest cars that had electrical systems have massive issue and an upgrade to new parts can work wonders.
Either way remember that not everyone owns a classic car for the same reason, make the choice that suits how you use the car, it's the best way to keep them on the road and out of the scrap yard.